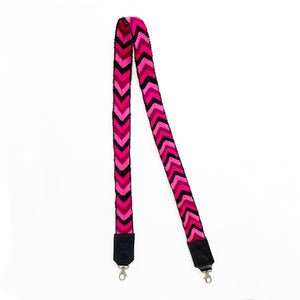 These bag straps are hand-made using Mayan textiles. These 'fajas' or straps are worn by men and women around the waist or around the head. Each pattern is unique to a town or region in the Guatemalan Highlands and everyone is unique. Can be used as a camera strap or a shoulder strap on a small bag or purse.

45" long x 1.5" wide
Cotton with wool embellishments and natural leather

Due to the hand-made nature of this product there may be some small variations in colour and size between Items.