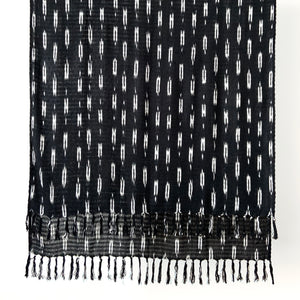 These travel scarves are hand-woven and made of 100% cotton. They are great for all seasons, light weight and perfect for traveling since their generous size makes them ideal to wear over the shoulders as well as around the waist as a pool side cover-up. They also make a great light weight trow when traveling in an air-conditioned vehicle.
27-28" W x 72" L
75% Cotton / 25% Rayon

Due to the nature of these hand-woven and hand-died scarves some special care is required. With all natural vegetable and mineral dyes some running will occur with the first wash. Hand washing separately in cold water is recommended. Hang to dry.